While a lot of folk seem to be discussing the link evaluation characteristic that Google might switch off from their 'Search quality highlights: 40 changes for February' post, the one I have found most intriguing was –
Improvements to ranking for local search results. [launch codename ââ?¬Å?Veniceââ?¬Â] This improvement improves the triggering of Local Universal results by relying more on the ranking of our main search results as a signal.
and –
Improved local results. We launched a new system to find results from a user�s city more reliably. Now we�re better able to detect when both queries and documents are local to the user.
I am seeing some pretty big changes in the Google.co.uk results from this update. It seems generic queries which are deemed to have local relevance (or intent) have more local results integrated from the main algorithmic results.
Let me give you an example. Here is a search for 'dishwasher repairs' before the change (incognito mode without personalisation) and Google believing I am based in Camberley from their auto location detection (I am based in Henley-on-Thames…) –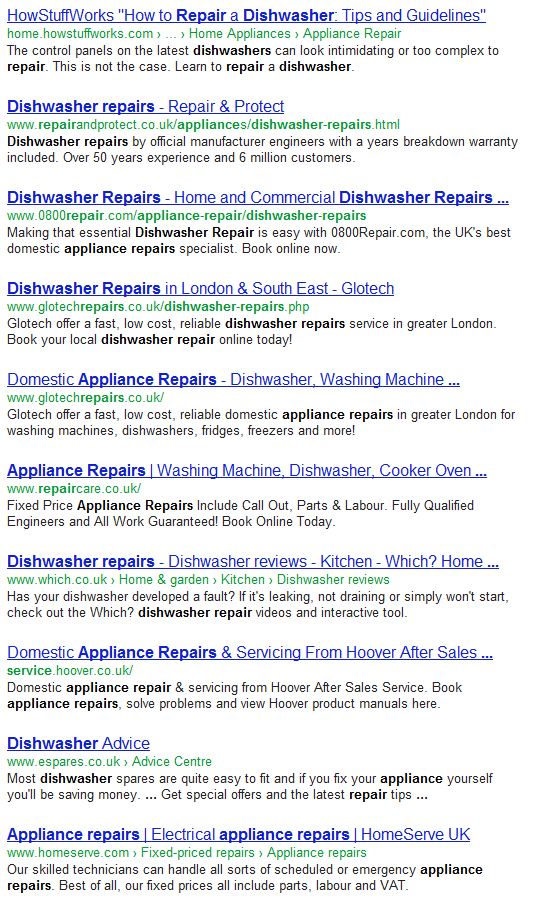 Now, with the change and the same search, the results look like this (I removed the map listings between the first result and 2nd so we can just concentrate on the organic results) –
Notice how the top 5 organic results are the same. But after that Repair Care's 'Camberley' page now ranks, Yell.com and thedomesticrepair.co.uk are now on the 1st page as well.
If you run a search for 'dishwasher repairs camberley', you'll notice the top 2 results (other than those already in the top 10 for the search before the update) are Yell.com and thedomesticrepair.co.uk. So it seems these are now integrated into the SERPs.
This is just one example, I found the same across a variety of search queries we monitor for clients who provide services where location can be relevant. If you search for 'car insurance', there has been zero impact.
The main concerns for me are –
Google have our location wrong. I am based in Henley-on-Thames, Camberley is a fair distance away and irrelevant.
The map listings (which I removed from the screenshot above) are actually showing results for 'Reading'. Now this is a far more relevant result. So why are the two systems using different location detection? Odd.
You can't seem to turn this location personalisation off with ease (you can manually change your location though!). This could have a big impact on ranking reports. The only way we have found, is via the following search query – https://www.google.com/search?pws=0&gl=UK&q=dishwasher%20repairs. If you run the same on Google.co.uk (ie, change it from .com to .co.uk), Google will detect your location again..!
Are you noticing any changes from this update?