It was back at the start of June that a number of SEOs spotted a change in the Google UK search results where by US sites seemed to be ranking unusually high for queries in Google UK. Geo filters have always been fairly strong in Google UK for generic phrases for obvious reasons and many, myself included expected this to change back quite quickly as these fluctuations do happen from time to time.
I have heard some chatter that the results have reverted back, however almost two weeks later I am surprised to say that the geo problems in the UK SERPS still exist. The UK search results are as bad as I have seen them, they are quite simply shocking in terms relevancy for a UK audience. The Google.com results from the UK (IP) have always been more of a half way house between UK/US results and now these results seem to be even more US focused aswell.
I recently asked Matt to comment, but he choose not to respond which is fair enough. It's difficult to know the cause of this change, a tweak in the geo algo or some have suggested problems with Googles link graph due to a massive UK ISP hack. Lets take a look at some of the results where we can highlight the problem that still exists.
A search for 'web hosting' on Google UK brings back a number of US sites in the top 10. Webhostinggeeks.com which compares a load of US web hosting companies with all prices in dollars is 7th. Justhost.com is 8th which may look like a UK site with a quick glance (if you look from the UK as it's delivering price/phone number by IP) but you can see from Googles cache its very much a US site in their eyes. Webhostingstuff.com again another US site takes up the 10th spot on the 1st page.
The 2nd page of results is much worse and really shows the scale of the issue.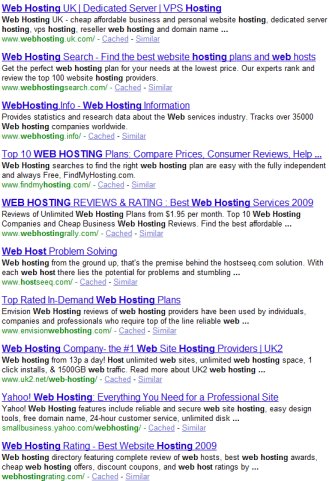 Webhostingsearch.com, Webhosting.info, Findmyhosting.com, Webhostingrally.com, Hostseeq.com, Envisionwebhosting.com and Webhostingratings.com are all US sites now ranking in the UK results.
So out of the top 20 results for 'web hosting', 10 of them are US based sites with US prices. That's 50% of the results with a US bias. Even more scary is that every single one of the sites on the 2nd page is basically an affiliate comparison site.
Sure some visitors from the UK will be willing to pay on their credit card in dollars for a (sometimes) cheaper web host as often people don't care where it's hosted.  You could argue (badly) that Google has decided that for this query, UK searchers habits have shown that US sites derserve their positioning as it's still relevant? Ok, so lets look at another example for 'flowers' –
The first page results are actually not to bad with a lot of UK results. But the 2nd page again is where the problems are obvious. In 15th position there is 800florals.com and just below 1800flowers.com. These are both US sites, with US prices which only deliver within The States and Canada. What exactly are they doing in the UK results? At the same time well known relevant online UK florists such as Arenaflowers, Flyingflowers, Debenhams and Bunches sit below them.
A search for 'SEO' on Google.co.uk now pulls back SEO.com a US based SEO agency in 8th position. On the 2nd page we now have Aaron Walls Seobook.com and SEOmoz.org. Both great sites in their own right with good content, but they have appeared from nowhere knocking UK based content further down the listings. It's not just US sites either, there are some examples of Australian sites ranking higher (not as high as US sites) for generic phrases or for longer tail, less competitive queries.
So the questions are, is this a test? Were these changes made on purpose and are Google working on the issue?  The answers would be no, no and hopefully yes.
While Webmasters and Google UK users are scratching their heads at the poor SERPS, Bings results are looking comparatively much better.