Google have started testing Adwords ads within Google suggest, like this example below from Search Engine Land –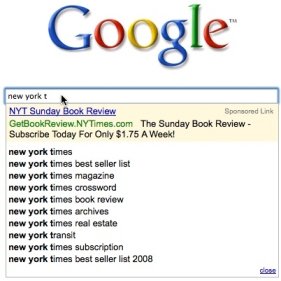 Normally Google do not charge for clicks on new advert testing like this which is good news. But for me it's quite scary how far they are taking the expansion of where they show their adverts.
At the top of search suggest is far to easy for accidental clicks in my view although Google are also testing showing ads at the bottom which would seem better. Another concern for navigational brand searches, are Google offering you any real value in showing your advert here? Especially with increased use of Chrome which combines a traditional url bar with search.
Google recently removed keyword trademarking in the UK and subsequently profit through increased brand bidding from advertisers in fear of losing brand traffic to competitors.  In many cases advertisers do not need to bid against their brand or the money would be better spent elsewhere, so will these adverts fuel even more fear? Johanna Wright Director of Product Management at Google argues –
"This is another example of search becoming more dynamic and Google getting users to the correct results as fast as possible,"
Is Google really focusing on the user experience here or is this a revenue making exercise? Lets hope Google make this opt in or at least have an opt out feature at the time of its (potential) introduction, not months after.