Google have introduced some nice new features to the Adwords keyword tool over the past few days and they have continued with the introduction of a new 'keyword analysis' page. It aims to give greater transparency into Googles quality score by breaking it down into two main components, keyword relevance and landing page quality at individual keyword level.
You may have noticed that the little magnify glass next to each keyword now has an extra arrow, which brings up the following when you hover over with a mouse –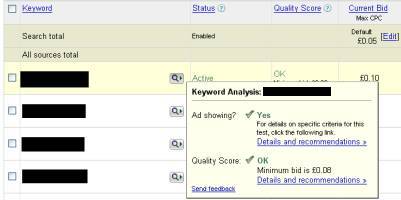 By clicking on the 'details and recommendations' link it takes you over to the new keyword analysis page. I went through a few campaigns to find a keyword with a 'poor' quality score to highlight the kind of advice you get, as shown below.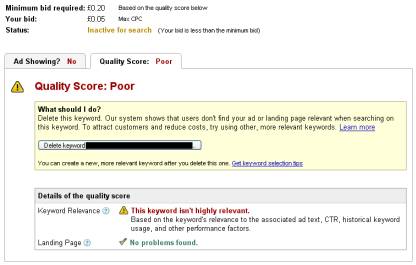 The report does not necessarily give you that much more information than you could probably work out yourself, but I do like the breakdown of components which will help provide a little more transparency into what element might be the problem in a keywords performance, especially for the everyday advertisers.
A bigger picture of the screenshot can be found here.