Google started testing Adwords comparison ads last year and subsequently rolled out credit card comparison adverts in the UK during February this year. Typically the adverts have been within the usual top sponsored ad positions in the usual Adwords format at the expense of an advertiser.
But check out this test I spotted earlier today –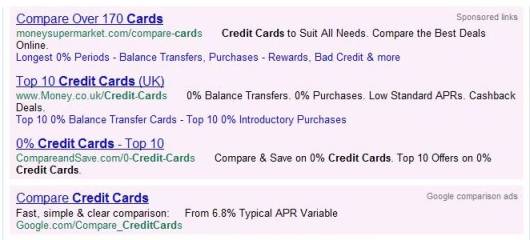 You can see a much bigger screenshot here.
As you can see, it allows Google to continue to have the maximum of three advertisers in the top spots for pay per click while still promoting their credit card comparison product aggressively. All at the expense of the algorithmic results, which get knocked right down the page…