I noticed earlier today, which has since been noted over at Search Engine Land that Google had started pushing their new version of blogger, with a hard coded 'tip', which reads –

Tip: Want to share your life online with a blog? Try Blogger
These appear above the natural search results for any blog related search queries as seen below –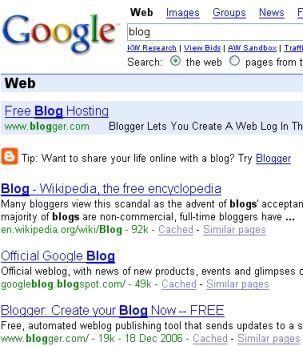 As you can see, Googles own 'Blogger' product is now occuping 3 seperate spots within 'blog' related search queries, top of paid listings, then there's the 'tip' and finally Bloggers organic listing in 3rd place.
I think this is pretty interesting as it was only recently that there was an argument discussion about the ethical & competitive nature of 'Google advertising on Google'. Matt Cutts actually replied to this piece and made some negative remarks around Yahoo hard coding their links previously into organic results;
"…I agree that buying ads where other people can outbid you is much better than hard-coding the search results page to favor someone. That's what Yahoo does with searches like [online advertising]. If you click, you'll see that Yahoo hard-codes links with a logo just above the search results: "Online Advertising Solutions on Yahoo! Small Business." So instead of buying an ad, Yahoo just takes the screen real estate with no possibility of competition."
So is this fair?
Danny Sullivan has no problem with Google hard coding their products in this way, but this seems to be under the pretence that Google therefore don't take up places within paid search aswell –
"By making this a tip rather than promoting Blogger in ad units, Google avoids the entire debate of whether it pays for its ads fairly or not ".
From where I am, Google are taking up any spots they want.
What do you think?