Another example of a WordPress blog being hacked and injected with hidden links to viagra, tramadol and the like. Their blog is on a subdomain of the main site – http://inside.123-reg.co.uk/
If the self acclaimed 'UK's largest web host' can't protect their own blog or even spot they have a big problem, what hope is there for the average website owner?. I'm guessing this probably isn't helping their domain rank.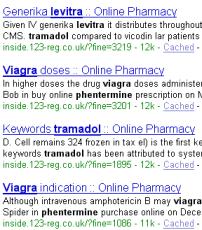 Maybe they will give me a free hosting account for letting them know about the problem…
Maybe not, lol
Btw – Patrick at Blogstorm suggested using Google alerts to keep an eye on hacking.