I've been away a while again, so to quickly answer a few of the usual questions – No I am not dead, no the site is not for sale and yes I am still trying to write here, although only when I have time which is not a lot at the moment unfortunately.
Anyway, I don't normally call out sites for link buying, but I thought this might be a fun one as it's a search engine. Yahoo seem to be text link advertising on http://www.iagora.com/. From the sites advertising page –
Advertisers on iAgora range from travel sites (i.e. Yahoo Travel) to recruiters who are looking for candidates with international profiles (ie Cisco, P&G), international universities (ie EBS, RBS, ESC Reims) or telecommunications companies (ie Phonevalley).
Now obviously we all know, that when advertising, particularly when you use a keyword rich anchor text like 'flights' a link condom should be used.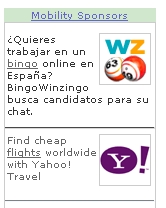 Surely Yahoo are not paying for a toolbar PR7 link for SEO purposes? :-)Â  (Yes these links will pass PR and anchor text even with the onClick event).
I particularly like the bingo advert above it which makes it look even more spammy.