Yesterday evening there were some big changes in Google search results as discussed on Webmaster World and reported by Brian Turner and Aaron Wall. However, the algo update or data push has been rolled back and rankings are back to as they were, at least for now.
Google were obviously equally unhappy with the search results as I was last night. In my opinion they were as poor as they have been in the last few years. A lot of big, big sites homepages went missing from the search results completely and much for the worse. I put this down to a bad data push rather than an algo change, but its hard to say. It certainly wasn't obvious link buyers or sellers (or network schemes) who were targeted in the industries I know, it was far more random and unpredictable. In some cases non secure (http) versions of homepages were replaced with secure (https) versions even when the secure version had zero internal/external links. Strange behaviour indeed.
I actually managed to catch a screen shot of the 'PPC blog' SERPS early yesterday evening. Considering this site ranks no.1 in Google UK for this term (has done since its creation) with sitelinks, it was quite strange to see it drop all of a sudden to 5th place. Not only that, as you can see there were 3 results on the 1st page, 2 of which were indented and strangely one being the homepage.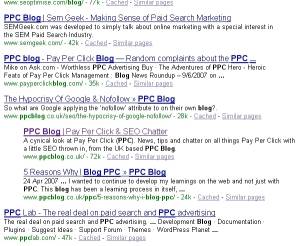 I could theorise as to what Google were attempting to do if this was an update, but I really don't need to. This site is as white hat as it comes, all editorial links with zero link purchases/selling or exchanges and just good old fashioned unique content. So if this site ranks badly in the SERP's, Google is quite probably going in the wrong direction. In my opinion of course :)
More seriously, there were multi million pound businesses just dropping out of the search results completely in some verticals I monitor. Not just one or two, but a number of big players in each industry. Is this a sign of things to come? No, as the changes were rolled back. But there is something obviously brewing.