There is still some debate whether the search engines place any weight on keywords used within page urls and that's actually what I wanted to quickly test. So I set up a couple of pages from this blog and included unique words within the page url, one separated by hyphens (dashes) and the other by underscores. Obviously the unique 'words' were not used onpage or anywhere else including linking to the page. The pages were set up as separate pages rather than posts, to ensure they were not syndicated or linked to from anywhere else.
Although a very rough kind of test, I wanted to see whether using keywords within the url only would be enough to pull back the page by itself under search. Second, I wanted to see whether Google is treating underscores as word separators as suggested they might some time ago.
Hyphens (dashes) In URL – /test-ljkdldlk-hdhdhdjqe/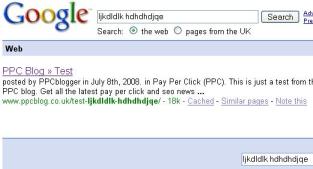 Searching for the two words with a space ("ljkdldlk hdhdhdjqe") brings back the page
Searching for the two unique keywords together without a space ("ljkdldlkhdhdhdjqe") did not bring back the page
Underscores In URL – /test-lhdldkjjgjk_lkhjhnues/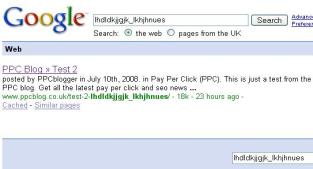 Searching for two words with a underscore ("lhdldkjjgjk_lkhjhnues") brings back the page
Searching for one of the words individually ("lhdldkjjgjk" or "lkhjhnues") or together with a space did not bring back the page
Searching for the two unique keywords together without a underscore "lhdldkjjgjklkhjhnues" did not bring back the page.
Conclusion
First of all, it looks as though hyphens and underscores are still treated very differently by Google. Currently underscores are still not being treated as word separators from these tests. The results match Matt Cutts comments from back in August 2005 on how Google would return the pages under search.
By no means do I think this was the best test in the world, but it does suggest that Google do give some weight to keyword use in urls, no matter how minor the weight might be.
Sometimes its good to analyse these things in context aswell – We know already that Google and Live seem to completely ignore the use of meta keywords (Yahoo and ASK give them some weight), while keywords used within a meta description alone are not enough for Google to retrieve the page under search (only with the use of anchor text aswell). So this gives us some idea of the weight keywords in a url may have.